If you are on the Adriatic coast, in particular in Rimini and Riccione, it is easy to find a fish restaurant; for this reason the Osteria dal Minestraio does not only offer a selection of the best fish and raw fish in the area, but also wants to offer its guests something that remains, a true gastronomic experience, sought not only by attention to detail but also by the customer himself .
An elegant and never too formal environment and service welcomes the client with the classic hospitality that distinguishes Romagna. Alessandro, along with his team, will follow you all the way to advise you and pamper you, because this is not only the classic "going out for dinner", but a culinary experience that will make you appreciate the joy of a good meal and a nice service.
---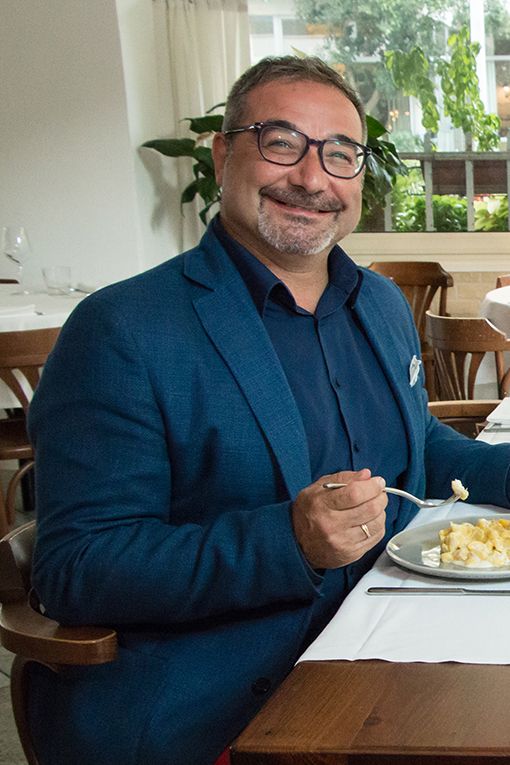 Alessandro Stecca
Alessandro Stecca, together with his brother Stefano, was born in 1970 in Rimini, in the heart of Romagna, a land famous for its hospitality.
Although he will graduate in accounting, from a very young age he has always had a strong passion for catering, which will push him, from 14 years, to work as a waiter and bartender in hotels in Romagna. The hard work and the experience cultivated in the field, led him, at 22, to become maitre at the 4-star Hotel Villa Rosa Riviera in Rimini.
In 1993, eager to gain experience abroad to expand his knowledge in catering, he decided to move to London, where he will work as a waiter in some of the most beautiful hotels in the capital, such as the Savoy Hotel and the Ritz.
In 1996 he decides to return to Italy and, shortly after, he starts working as a waitrer, together with the future partner Michele Corazza, at the Osteria dal Minestraio in Riccione, where he will take over the management in 2001.
Since then Alessandro has become the face of the "Minestraio", the one who, together with a selected staff, welcomes and puts the restaurant guests at ease. Thanks to his experience in catering, he revolutionized the management of the dining room bringing it over the years to gradually rise, together with the kitchen, towards the excellence that today distinguishes both.